Or " I have been winched by the best !"

(NOW CLOSED) A little about Air Strip updated to a 4+ diamond
Continuing Adventure
Air Strip… What can I say? It has been the nemesis of my (then stock daily driver) 95 Discovery. A great level 4 hill. When sitting at the bottom of the hill all you can see is red dirt and rock straight out of your windscreen.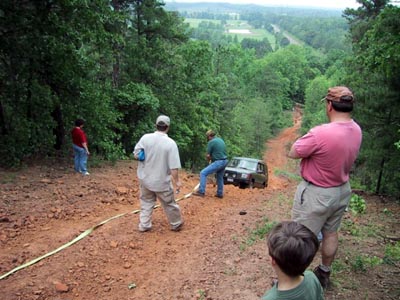 Look up and all you can see is more of the same. Once you start the ascent all you see is blue sky.
Once you make it up the long steep loose rock slope there is a rock ledge that falls about center of a 245×16 tire. This ledge is more of a challenge than the length and grade of Air Strip. Air Strip has gotten the best of me since December of 2000. The first time I attempted it my center diff popped into neutral.
The only thing that will stop a then stock daily driver 95 Discovery rolling backwards in neutral is a healthy tree.
Once again…
On 4/22/01 I gave it the old college try again only to be beaten by the ledge just before the crest of the hill. And to make matters worst I had to be winched up by a Nissan Xtera.
I studied all the Rovers that made it up Air Strip. The one thing I noticed was they were the ones with the more aggressive tires and automatic traction control. Here we go another mod, I purcahsed my 245×75 Mud tires.
Then in July, on the way home from off-roading my Disco lost it's rear end and got tail ended. Taking advantage of a bad situation I have North Texas Rovers build me a rear end with a Detroit locker.
The next trip was one of those super days off-roading, where everything goes as planned. So the last run before heading himoe Air Strip w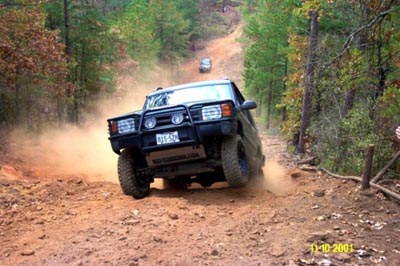 as only stopped by a sharp rock cutitng through the side wall of the passenger side front tire.
This was not even an assult on the hill, I had just pulled off the main dirt road and started going down to the hill proper when the tire was deflated.
In November, I tried again. Persistence paid off and I met at the top of the hill by a crowd of cheering off roaders. The locked diff, locked rear end and more aggressive tires conquered the hill. TMTC is correct on their recomendations.