---
Barnwell Mountain is property of the Texas Motorized Trails Coalition. It is located in East Texas six miles North East of Gilmer, Texas on Hwy 155 (Entrance is N32*48.04′ / W94*52.55′) . The area is 1800 acres and has approximately 200 miles of off-road trails, the majority of which are suitable for 4x4s.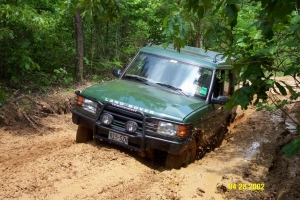 Greenlane, Better known as trail # 42A with an extension that includes # 42B, was adapted by
Texas Rovers
out of the Dallas Texas metroplex. It was chosen as a trail that could be done by stock Land Rovers. The name was chosen by a club vote, Over time old man weather has helped up grade it from a two, to maybe a 2.899 due to the ledge at the end of the trail. There is now a bypass to the right of the ledge for less aggressive drivers.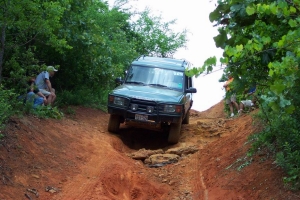 Greenlane starts east the camp ground (N32.47.702 X W94.52.127). There are two ways to get there. Those who like a easy off road trip can take first right (Omega trail #100) by the front gate across from Air Strip, following it around to where it comes out near the camp ground. Then turn left and follow the tree line to the sign and trail head. Most people just go south on the main road,and turn east (left) right after the camp ground. Greenlane(42A) starts with a down hill grade and slight ledge created from an old tree stump that gives it look and feeling of a more demanding trail, It then wanders down to Linda Gale. A right turn takes you on to Greenlane a left will take you to Linda Gale. If you are adventures you can go through the off camber trench. It looks worse than it really is. If you feel nervous on steep off chamber, there is a by pass around this obstacle.
GreenLane is not a technical trail . After you go through (or around) the trench you get a good wander through the woods down a short hill, then back up through the trees. Some lower stock long wheel base vehicles like long wheel base Range Rovers drag the back bumper here. This part of the trail is not really a narrow trail but, I have seen drivers clip mirrors negotiating through the trees. This normally happens just as you start up hill and make a hard left then a right between the trees.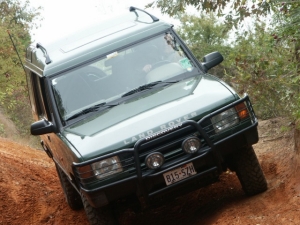 Approaching the end of Greenlane is a sandy uphill right turn that got the best of my Freelander with stock 16 inch tires. Then having to be winched over the ledge at the top. This sandy area does need a slight momentum to help get through with a stock vehicle and stock tires. The rock ledge just as you reach the end, has survived while the soil below it has been eaten away by weather, time. There is a by pass around this ledge to keep the trail in the spirit of a two diamond.
Greenlane comes out just right for the more modified vehicles to head over and do Twister for a test of articulation and driving skills.