My Off-Road Land Rover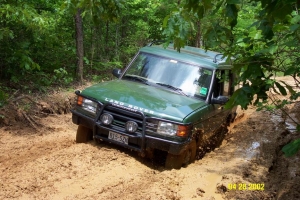 The first Land Rover I ever purchased was my 1995 Land Rover Discovery. I bought it used in 1997 to replace my four cylinder 1987 Isuzu Trooper.
I originally purchased it as a stripped down SUV which I could use as a daily driver back and forth to work, and to haul yard supplies etc. on weekends.
It is green in color and has tan cloth interior. I has no options except power windows, the upgraded stereo system with the CD changer and subwoofer and an aftermarket sun roof .
After my first Land Rover sponsered "Wheels Event" I became hooked on off-roading. Slowly but surely my truck became more and more modified. Now that I have my Freelander to use daily, the Disco became a play toy and a serious off-roading truck.
One Response to "1995 …..DGOHV"