My 2002 Freelander
A few pictures from Barnwell with the FreeLander in action.
updated 6 april 2004 (Traded off for the 04 G4)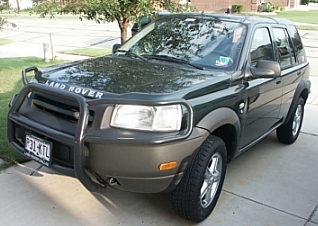 I ended up with a 2002 Freelander S. Like my Discovery, it has only the upgraded audio as an option and a front brush guard. This one doesn't have power seats or a sunroof.
I now have just over 30,800 miles on it and like just about everything on it. It has been averaging around 19.96 mpg. The only little thing I don't like about it is the black cloth interior that shows every little speck of dust or dirt. I have now covered them with green water proof seat covers .
I put a CB in it and had every intention of doing lite off-roading in it, the first time I took it out I did some body damage to the drivers side sill. I still off road it on occasions when the mood hits me. Even though it is not the off road rig the Discovery is. It has proven to be quite capable in most situations. If it only had a little better ground clearance it would make a fun off-roading vehicle.
Overall, it's sporty and much better on gas mileage than the Disco. So far only one major problem, Oil leaks from the rear main engine seal. This was fixed by the dealer under warranty. This was more of nuisance than any thing just drips in the drive way. Only one strange happening, both low beams burned out at once… also taken care of under warranty .