---
---
Friday after noon part of the Texas Rovers group met at the intersection of 190 & 78 and convoyed to Broken bow. We arrived at sevenish, checked in the hotel and ate dinner
Saturday morning at 6, those who wanted to fish met at the Three Rivers Fly shop. Vangie and I slept in. Having a late breakfast we met back at the hotel at 10AM. After a slow start those of us were at the hotel headed to Beavers Bend State Park to meet up with the rest of the group.
As we were heading out we got the word that that Rene had Alternator or battery troubles, Roland took him to get a battery and he tried to get back to Dallas but got stuck again about 75 miles away from Broken Bow. Fortunately, Kevin Didion was the hero of the day, he still had his spare alternator in his truck from the Colorado trip and drove out to where Rene was stuck, together they installed it and got Rene back on the road, then Kevin returned.
Saturday afternoon got off to a later start on the off roading than we planned, Some of the group discovered the Nature Center in Beaver's Bend State Park. Finally getting under way, we got to the off road area The convoy barely got off the paved road ( only 4 tenths of a mile), we ran across a Game Warden who checked for WMA permits. The first thing I thought of when I saw the warden, I for got to stop and get my permit and how much is this going to cost me !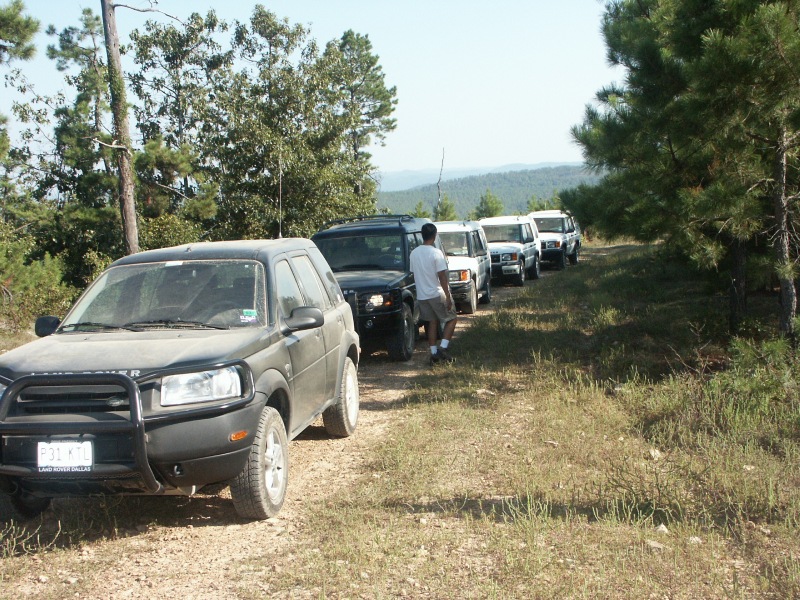 , All the group had not bought them and citations were written. The Game Warden could have been more lenient since he could tell we just got off the main road and had just let us go back out and get them, but he could have made it worse as well, he only wrote warnings to the ladies and citations to the drivers . I knew about the permit and did have and expired one, but was not going to argue either point. The off roading was all logging trails and they were very well maintained. The trails climbed to some peaks running around 1500 feet elevation and the views and scenery were gorgeous. and not even challenging for my Freelander. When Ross radioed he was going into low range… I radioed back asking where my center dif shifter was located… DRIVE all the way.
Sunday we met about 10AM and went out to Ambush Adventures. Kevin, Chris, Janelle and some friends went Kayaking through the more difficult "Rock Garden" both Saturday and Sunday. Travis, Andy and Jay had to leave early on Sunday so that left; Ross, Ty, Chelsey and Harley; Darrell and Diane; Roland, and 3 sons; and Vangie and I chose the easier 5 mile lower section. This was mostly very serene peaceful and beautiful canoeing with the occasional narrow fast current sections to make it fun and interesting. On one particular narrow fast section, the current carried you 1st hard right then made a fast hard left and took you right under a low hanging tree branch so everyone in the canoes had to duck under. One group unfortunately all duck to the left side of the canoe and she capsized. Roland was up stream and beached his canoe and dove in to help gather everyone up, Ross and Ty were already down stream so turned around and paddled back, along the way they rescued 4 floating paddles and 3 hats. All turned out well and the journey continued without further mishap.A little further down river we met another group of canoers swing off a rope tied to a tree. I think every one tried it except Darrel, Diane,Ty,Vangie and my self tried it.Some where better than others. When we got back to the Ambush Adventures area we met up with the hard core Kayak group and said our good byes and headed back to Dallas
All in all it was a good fun week end with friends and family.