SCARR 2008
By: Jim Edson
Five years ago, the late Ross Mabey and fellow Texas Rovers club members started an annual event for Rover enthusiasts in the United States. Each year it has grown, each year hosted at Barnwell Mountain located in North Eastern, Texas. This year we had 160 participants 89 land Rovers. The trucks ranged from 1962 series to 2008 Range Rover Sport, while the majority were Discovery's and the people ranged from such diverse locations as British Columbia and even Argentina! As well as one driver who flew in from Sheffield England. Unfortunately, Ross Mabey passed away, but much like his unmistakable legacy in the Texas Rover club history, his name lives on in this very campsite that I now sit and his memory lived on in this year's event. . As one out of town visitor put in a post on his web site "I had a great time- much more fun that the vast majority of off-road events I've been to in the last 16 or so years I've been doing it."
---
---
We started Thursday with Land Rovers enthusiast waiting out side the gate to register. After setting up camp they had a chance to do some trail runs and familiarize themselves with Barnwell Mountain. Those not so adventurous met for guided trail runs at the pavilion. One group of the adventures nature went over to test out twister. A nasty washed out ravine that challenges even the best-prepared vehicles.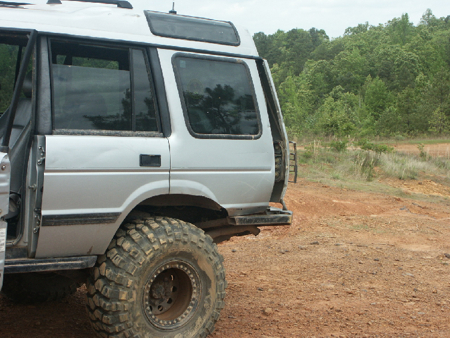 I arrived in time to see Dan Chapman's damage to his 97 Disco.
After dinner everyone met at Camp Mabey for an informal Meet 'n Greet. Those brave enough headed out under a clear sky and full moon for night runs. Then back to Camp Mabey for libations and campfire time.
In the meantime the young children met at the Camp Mabey pavilion to have Mike Law paint tire tracks on their SCARR shirts. This turned out to be such a super hit that even some of the adults had their shirts painted with tread marks and one Series II ended up with tread marks up one wing.
Friday morning everyone met for more fun in the sun and organized trail runs. One group decided to test their metal on "Twister" while others not so adventurous explored less difficult trails. The easy group headed out led By Darrell Oliver with me as "Tail Gunner" in the rear. As we pulled off the main road. Not even a hundred yards up the trail Anne Lockley was on the CB saying she was getting rear tire rub… Apparently on her way here from Canada, she had some tire work done. The person must of used her trailing arms as jack points, bending both of them. Most every one had done this run earlier and felt like old pros. So, when Darrell asked if any one wanted to try some mud? They all said yes. Cutting over to "We Show" normally an easy trail. After folding in our mirrors to make it between the trees, and negotiating sharp corners,and close trees, we were brought to a stop.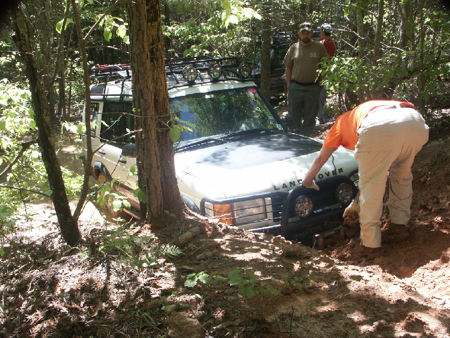 Darrell had gotten stuck in his mud hole. To make matters worse the opposite bank was higher than his bumper and wet clay. Out came the winches. I backed out to the main trail; several others managed to turn around after much back and forth m maneuverings. We took the main trail around in time to watch all the action with the winch. One LR3 received miner cosmetic damage to the passenger rear door. When we got back to the main pavilion, Anne's Rangie was ready to go again with help from several handy folks.
While the big kids played on the trails, the younger folks (and some parents) met Mike Law at the pavilion for a kids' Scavenger hunt. Mike also helped those who had not received their tire track, paint them on their shirts.
Based on SCARR 07 surprise hit, a Timed Run through the obstacle course was located and a "Trust Your Spotter and driver blindfolded" run on the same course tested everyone's' skills. The best time was the team of Tom Griggs and "Moses".
After all this excitement everyone congregated at the Pavilion for a Tailgate Party & Cookout Dinner of grilled hot dogs and hamburgers and a chance to mingle with friends old and new. Any gathering of Land Rovers turns into a show as folks inspect each other's vehicles and modifications.
Just as darkness fell, Mike Law gathered up all the kids for a Flashlight Trail Walk and furnished each with a flashlight donated by Coppell ACE Hardware. While Mike led the young folks along dark trails, a group of Rovers headed out for their own fun on the trails. Others gathered around the campfire to tell more tails of the days events and enjoy some liquid refreshments.
Saturday morning everyone was a bit slower getting started. But once up and many hot cups of strong camp coffee, most folks were ready for their daily fix of off-roading.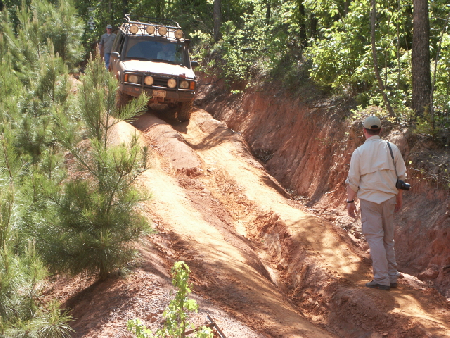 Scotty Thrope in his 1962 Series Land Rover with Sam and the two brothers, Ed and Max Mavle in their 69 IIA 88 Series from San Antonio pull in the queue for the intermediate group.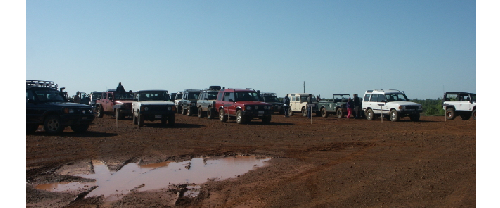 The trail leader gets out and looks at Scotty's 62 wagon and says "I think you are in the wrong line." Scotty coolly replies, "no I am signed up for the intermediate group," and he replies, "do you think your truck can make it?" Scotty gives him a confused look and said, "I think so." He makes it over most obstacles easily until they get to the first long steep hill. Making his first run at the hill, he gets half-way up and lacks articulation enough for rear tire to drop down and make contact in a deep rut bringing him to a stop. After three tries, Ed gives him a different line that misses the deep rut. Then the Series II goes flying up across and over the rut heading straight for a large tree. With the wheels cut hard to the left they grab and miss the tree by one (1) inch and Scotty and the 1962 Land Rover wagon demonstrated to every one what off-roading skill is all about by clearing the top to a cheering crowd of well wishers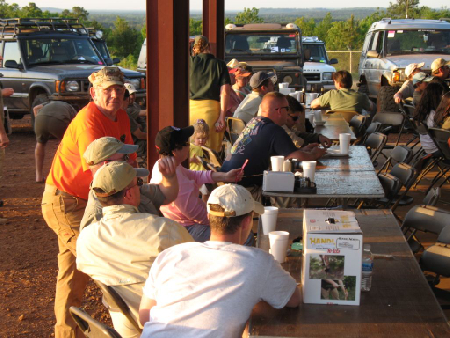 Almost everyone took advantage of "sack" lunches provided by
North Texas Rover
. Then back to resume Trail Runs. Some chose to explore the park at their own pace.
Before a great BBQ dinner of brisket and sausage, potato salad homemade cobbler with ice cream, the obligatory Group Photo was taken. After dinner the raffle was held, and many folks headed home with great prizes, including Air tank,from Expedition Exchange, springs, roof rack, light bar, high lift tool set, and more.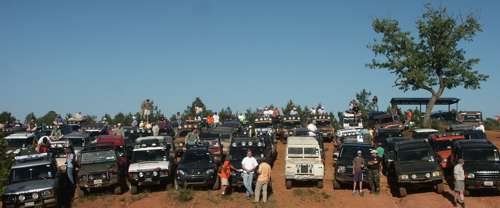 After some night runs folks gathered at the Camp Mabey pavilion for an exciting slide show by German de Codova, who is traveling in a fitted out Defender 110, from Argentina to Alaska.
Sunday…. Still excited about the event, but tired we all said our good byes and headed our own ways…until SCARR 09.
One Response to "SCARR 2008"