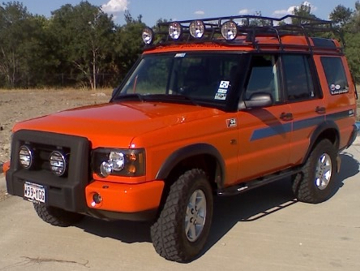 Adding lights to your Land Rover is really a simple exercise. Below is a wiring diagram and simple instructions to help you complete the task. I mounted the lights on the cross rails of the roof rack. They could also be mounted on the brush guard, or bumper using Land Rover part number VUB500470.
The switch can be mounted in dash surround or as I did, removing the ash tray and replacing it with a switch panel from a Discovery I.
SWITCH:
Land Rover Part # AMR4138 , Fog light switch for series I Discovery.
Pin #1 Three basic options: Use 14 gage wire and 10 amp fuse to protect the switch circuit.
A- Fused 12 volt from cigarette lighter. This will allow the lights to work independent of other lights
B- Fused connection to the high beam circuit . This will allow the lights to work only when the high beams are active. In some state only legal hook up for high mounted driving lights.
C- For fog lights, that only work with low beams. connect to low beam circuit.
Pin #4 Connects to pin 86 on the relay.Use 14 gage wire. When pin 85 on the relay is properly grounded this completes the circuit for the magnet that activates the switch between pins 87 and 30 on the relay.
pin #2 Connect to a dimmed / switched circuit such as tapped into pin two on the cruise control switch. This allows the back light to act in conjunction with other dash lights.
pin #5 Ground for back lights circuit in switch.
pin #3 is not used.
Relay
#30 30 amp fused from battery use 14 gage wire.
#87 To lights, use 14 gage wire
#85 To ground, use 12 gage wire.
#86 To pin 4 on switch, use 12 gage wire.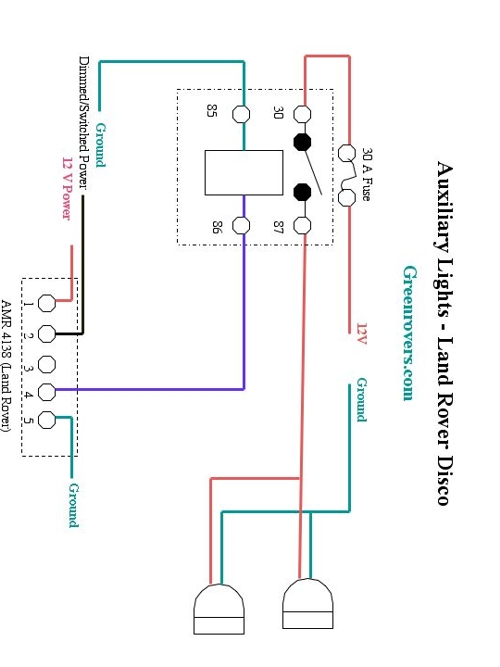 14 Responses to "Auxiliary Lights"