---
[flagallery gid=44 name="Rally 07 "]
---
Didn't get as far as we wanted the first day. We spent the first night on the road in the Clayton KOA. It is vacation and several days from the rally. For those who really want to know, Clayton New Mexico is just across the boarder of Texas on High Way 87, and just ninety minutes from Colorado. All I can say is it is hot, and the wind is blowing…… HOT!
Air conditioning is great. In the Rover in the Casita.
click for casita pictures

Today has been a Casita spotting day, with the first one this morning on 82 near Henrietta Texas. Next spotted three on high way 287 between Wichita Falls and Amarillo, all were heading south. On 82 spotted two one was parked on the opposite side of the road well off the shoulder. Then one near Texline Texas heading south.
Arrived in Clayton New Mexico, spotted a KOA sign and pulled over for the night. Vangie spotted the miniature golf course and challenged me to a game. Even as rotten as I played in the wind and heat, I still beat her by two points.
The second day on the road was an easy run to my cousin Joes in Woodland Park Co. We spent the night with them. It was a good visit, I had not seen them since Randy's funeral last spring in Post Falls Idaho.
We were up and ready by 0700, this made and easy drive into Montrose. Stopped on Monarch Pass just so I could take a picture by the Continental Divide sign.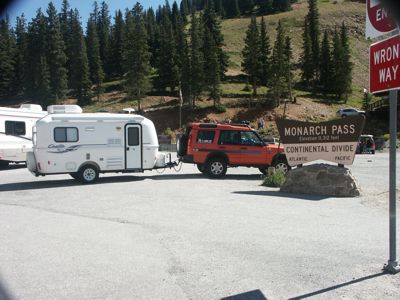 Checked into the Montrose RV Resort, then drove to Denney's for a very late breakfast (almost 4pm). Got back to camp in time to put things away for the afternoon thunder shower.
There are two Defenders and a Range Rover staying in the cabins here, will have to go over and meet them later.
Getting up early Vangie and I decided to run into Ouray for a look around.
While eating lunch, gave Darrell a call and decided to run Engineer pass as a warm up for the Rally.
This is half of the Alpine loop, which was the first trail I ran with the 95
Disco back when it was new. We met Darrell and Diane at the Ouray visiter center
and headed south on 550 for about 3.5 miles, just after the switch backs out of
Ouray. No real challenges. Engineer is rated as moderate with lower
section being quite rocky. There are some narrow sections and switch backs
that could be unnerving if not use to the mountains. It is only 27 miles but
takes a good half a day to drive. It was getting late when we reached Lake City and I was concerned about the weather decided to take the high way back to Montrose rather (100+miles) than the 16 miles over Cinnamon pass and risk getting caught in a thunder storm on the mountain.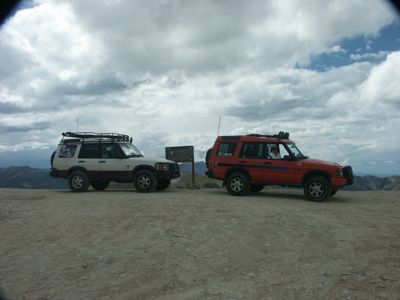 Darrell's Disco and the G4 on Engineer pass (12800 ft)


Met old Friends from Canada, and Oklahoma here. as well as running into Jerry from Texas Rovers Dallas.
This was a very easy day. Lined up with the group doing Last Day Mine and Red
Mountain Mines. This is rated a four, which surprised me. as Engineer is rated
rated a three. We saw lots of old mines, couple of ghost towns, a heard of elk, lots of deer, and a whole bunch of tiny creatures running back and forth across the trail.
In the afternoon we ran into a hail storm and some rain on the trail . I was glad it did not last long.
The actual trail started just south of the Alpine loop on 550. I know I have run parts of it in the past only in the opposite direction. Lots of switch backs one long very steep up hill grade.
Only down side really was following a series diesel that was having problems and smoked so bad that, at times I could not see it ahead of me. The lady who was driving it solo, gave up and headed back to Montrose.


G4 on Red Mountain


Friday we ran Yankee boy basin and Governors Basin. The lower portion of the
trail is easy. The upper sections have some steep, rocky climbs and narrow areas
that gain it a rating of seven. The finnal climb to Governors Basin takes you to
12800 feet above sea level. There are some off camber sections as well as narrow
shelves and steep loose rock climbs. Also a very scenic trip.
Returned to Montrose in time for the BBQ and Vendor show. Wondering around looking at every thing I spotted some sliders for the G4 on the Rover Tracks display. Came back later and asked how much. He said 400 at the show. I said "If I buy this set, will you install them for free tonight?"
So… Ten at night in the Elks parking lot I had the running boards taken off and sliders installed. Just in time to do Black Bear on Sat.
Saturday the final day for the Land Rover Rally. Chose Black Bear as a final run. As usual it was worth the pucker power.
Rated as difficult or a five on the Solihull Society scale. It is not to be
taken lightly if you have any fear of heights. Black bear starts at 11500 ft the
upper switch backs are very narrow and steep. Several require a three point turn
to get around. Luckily this section is one way down hill. On the way up we climbed a nice water fall, the top of which was about hood high when I pulled up. All I could think was there goes my bumper. but there was enough step that the wheels caught first and pulled right up and over.
Black Bear has plenty of switch backs off camber sections, and rock steps. Nothing that is un-doable. The only hitch on
to days run was I followed a line I knew I shouldn't and my drivers wheel slid off the rock and the front of the vehicle slide off. When the drivers side front wheel hit the edge of the road, the road gave way leaving it hanging and me stranded. The Disco behind me gave me a tug back up onto the rock ledge and I moved over closer to the uphill side and drove right on down like I knew what I was
doing. Just as we arrived at the waterfall and old mine the rain started. This really made it interesting for the folks who had not made it down the rough spots. It also did not help traction on the rest of the rocky mountain side.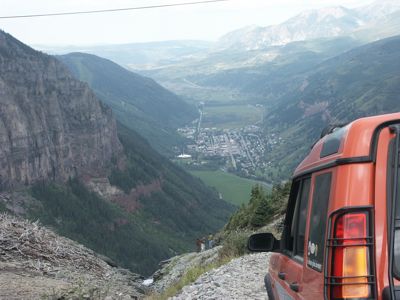 G4 over looking Telluride from Black Bear
Last Dollar is a county road. No more or no less. It was very muddy in places. Very steep in places but a most excellent short cut for Land Rovers to take to Ridgeway and eventualy Montrose. In on especially muddy spot we came up on a Nissan Pathfinder that had slid off the road and rolled. smashing the top in and breaking all the glass. The young couple who had RENTED it were OK and setting on the hill side, while two folks who came upon it before us contemplated what to do next….